toasted almond & cherry porridge
Just the name brings delicious thoughts to mind, right? Picturing those deliciously sweet smelling caramelised almonds that can be found at Christmas markets. Balancing the sweetness with aromatic organic sour cherries as well as our special spicy Ceylon cinnamon.
You no longer need to be limited to just imagining this perfect winter combination - try our Toasted Almond & Cherry Porridge now and let yourself be seduced by its sweet and spicy scents, just like out of the decorated stalls of a festive Christmas market!
almonds: truly irresistible and highly nutrition

Did you know that our almonds are very related to our cherries? And not just because they are both ingredients in our Toasted Almond Cherry Porridge. The almond is in fact not a nut, but a stone fruit and belongs to the rose family. The white to pink blooms of the almond tree are a real show of beauty, which is in no way inferior to the stunning cherry blossom. Almonds have been cultivated for over 4,000 years. They thrive best in the Mediterranean or California.
Admittedly, freshly roasted almonds or sweet caramelised almonds, as in our organic porridge, probably taste best in winter. But natural almonds are also very popular - and rightly so: You can not only enjoy them in between meals as a tasty snack, but also use them to refine your cereal or porridge with ground, chopped or sliced almonds. Containing about 20% protein, they can also be enjoyed by our sports friends as part of a balanced diet. Just like our porridge, with just 5.5 grams of sugar per serving (40g), you can enjoy the winter time with a clear conscience.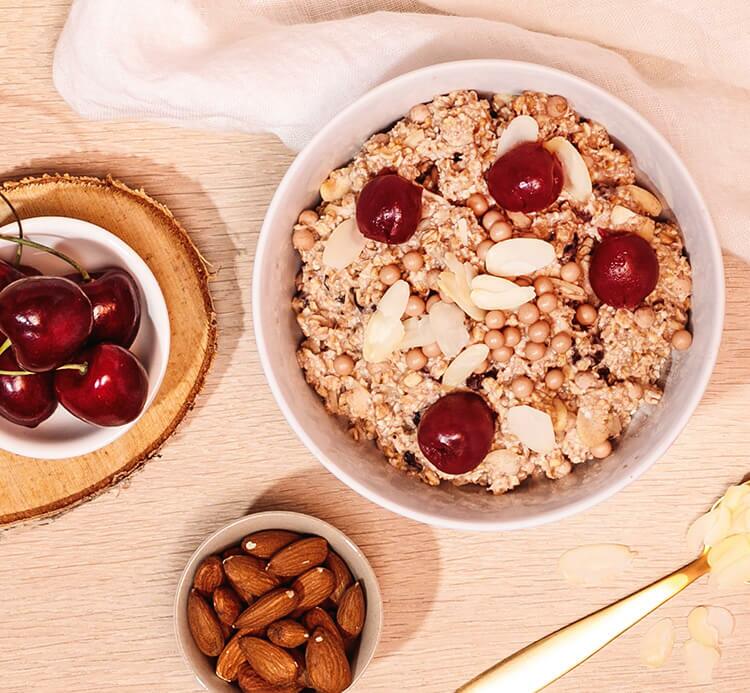 Ingredients (100% organic)
mymuesli contains organic ingredients only and does without any colourings, flavourings or flavour enhancers. Always. Promise.
mymuesli Porridge Almond Caramel Cherry is an organic porridge with these delicious ingredients:
| Nutrition values | | per 100g |
| --- | --- | --- |
| Caloric value | kcal / kJ | 398 kcal / 1672 kJ |
| Fat | g | 12.6g |
| ...thereof saturated fatty acids | g | 2.8g |
| Carbohydrates | g | 53.9g |
| …of which sugar | g | 14.9g |
| Fibre | g | 9.3g |
| Protein | g | 12.6g |
| Salt | g | 0.31g |
| | | |
List of ingredients
fine oat flakes, dried sour cherries (14%), almonds (10%), choco-crisp with natural caramel aroma (8%) (sugar, cocoa butter, whole milk powder, wheat flour, sea salt*, cocoa mass, wholemeal oat flour, emulsifier soya lecithin, barley malt flour, baking agent sodium carbonate*, honey, glazing agent gum arabic, vanilla powder, natural aroma*), cinnamon. May contain traces of other nuts, peanuts, lupins and sesame seeds.