MANGO pomegranate PORRIDGE
Porridge has never tasted so fruity! Aromatic mango pieces and crisp sweet and sour pomegranate seeds make your oatmeal uniquely exotic. Tiger nuts complete it with a slightly nutty note. And of course you can top it all off with your favourite local seasonal fruits too. Either way, it's sure to be a breakfast that conjures up the idea of a holiday through each mouthful...


'FOOD OF THE GODS' - HISTORY OF THE MANGO
We're talking about the fruit, which as far back as 1200BC was referred to in Hindu texts as 'jelly', a.k.a. the mango. Because of its divine sweetness and as a sign of wealth, the bright yellow-fleshed fruit is still sacrificed to the gods to this day. We certainly agree that our gently freeze-dried mango pieces are divinely fruity too!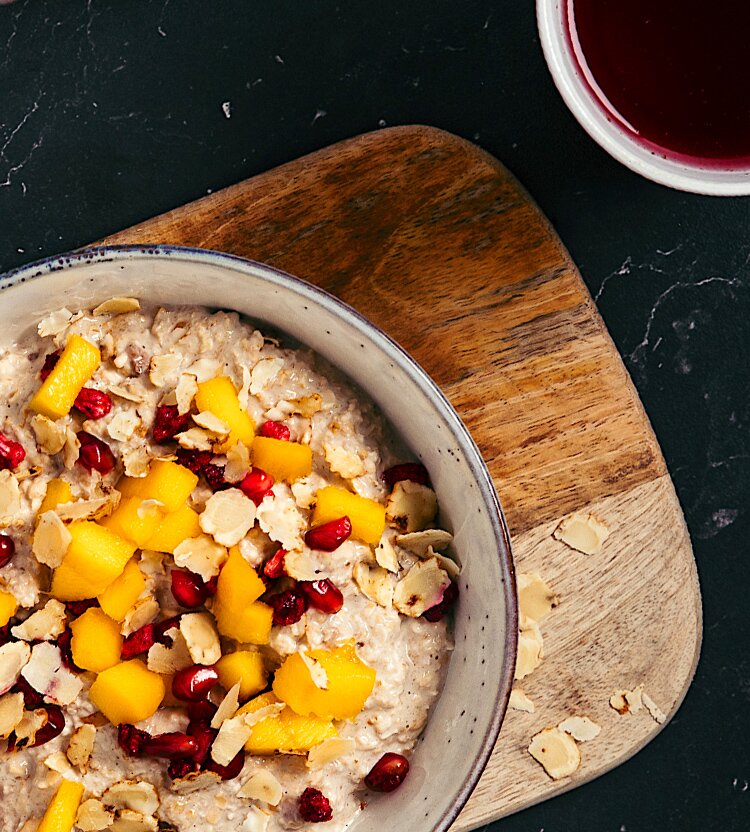 MORE MANGO KNOWLEDGE
The mango not only tastes heavenly, you can also learn some pretty cool facts about it. Mango trees can grow up to 35 meters tall and carry juicy delicious mangos for up to 300 years! Worldwide production is estimated to be about 45,000,000 tons per annum - that's about 15 mangos a year for every human on Earth, not bad right? Most of them are growing in India, followed by China and Thailand. There are over 1000 different types of mangoes worldwide. And where you ask, can you find the tastiest one? In our porridge of course - and if you like, soon on your breakfast table too.
Ingredients (100% organic)
mymuesli contains organic ingredients only and does without any colourings, flavourings or flavour enhancers. Always. Promise.
mymuesli Porridge Mango Pomegranate is an organic porridge with these delicious ingredients:
| Nutrition values | | per 100g |
| --- | --- | --- |
| Caloric value | kcal / kJ | 381 kcal / 1603 kJ |
| Fat | g | 7.6g |
| ...thereof saturated fatty acids | g | 1.5g |
| Carbohydrates | g | 59.3g |
| …of which sugar | g | 7.9g |
| Fibre | g | 12.7g |
| Protein | g | 12.5g |
| Salt | g | 0.02g |
| | | |
List of ingredients
fine oat flakes, tigernuts, freeze-dried mango pieces (5%), freeze-dried pomegranate seeds (5%).
May contain traces of other nuts, peanuts, soya, lupin, sesame seeds and milk.