LOWER CARB goji acai muesli
Want a healthy diet but don't want to compromise on taste? Look no further than out high-protein, low-carb breakfast. Think protein packed sunflower seeds and exquisite hemp nuts, but with an extra helping of berries: sour goji berries and freeze dried strawberries are topped with finely ground açaí and aronia berries. An extra fruity breakfast, but 100% vegan and with no added sugar!
the QUEEN OF SUPERFRUIT
The goji berry may be small, but don't underestimate its power! It is considered by many as the queen of super fruits because of its nutritional value: not only does it have a unique fruity taste, it is also a good source of protein. But this berry reigned long before the time of hipster cafes, it has been an integral part of Chinese medicine for thousands of years. Whether the goji actually has a healing effect is not clear...but its the taste that counts anyway!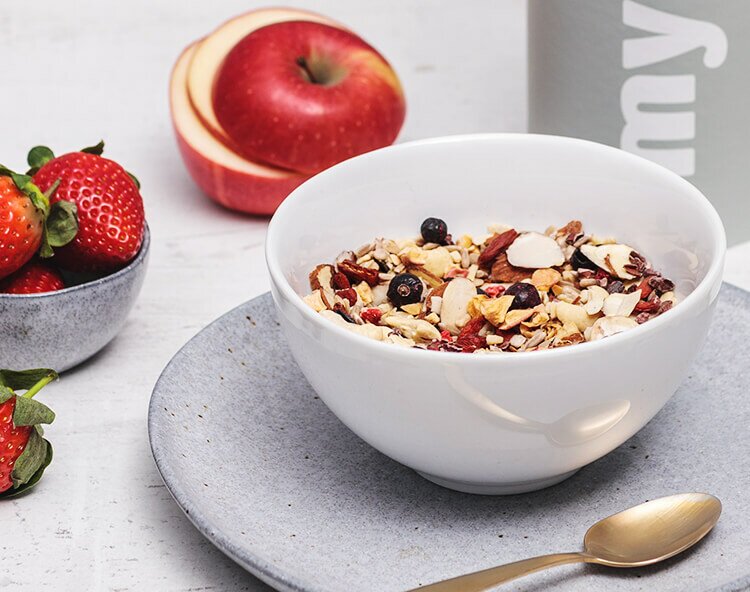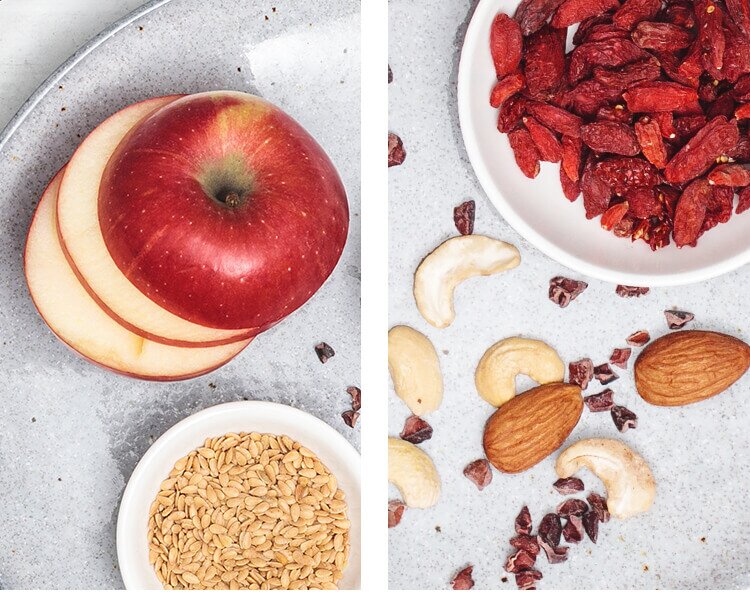 AḈAÍ - with BRAzILIAN FLAIR
Next up... The Açaí! Another super fruit, but with a completely different look. The berry, which comes from the Amazon region in Brazil, is reminiscent in shape and colour to our native blueberry. In the coastal areas it is frozen or served as a refreshing juice as it spoils very quickly after harvesting. For this reason, we often find the small South American berry as powder.
Ingredients (100% organic)
mymuesli contains organic ingredients only and does without any colourings, flavourings or flavour enhancers. Always. Promise.
Lower Carb Açai-Goji Muesli is an organic muesli with these delicious ingredients:
| Nutrition values | | per 100g |
| --- | --- | --- |
| Caloric value | kcal / kJ | 523 kcal / 2170 kJ |
| Fat | g | 38.9g |
| ...thereof saturated fatty acids | g | 5.3g |
| Carbohydrates | g | 16.6g |
| …of which sugar | g | 8.0g |
| Fibre | g | 11.4g |
| Protein | g | 21.0g |
| Salt | g | 0.04g |
| | | |
List of ingredients
sunflower seeds (28%), sprouted flax seeds, hemp seeds (14%), almonds, cashew kernels, pieces of raw cocoa beans, dried apple pieces (5%), sesame, dried goji berries (2%), freeze-dried black currants (2%), freeze-dried strawberry pieces (2%), açaí powder (2%), chokeberry powder (2%), linseed meal. May contain traces of cereals containing gluten, other nuts, peanuts, soya, lupin and milk.
Taste flower
Our taste flower shows you what you can expect in terms of taste and consistency.
sweet
crispy
sour
mushy
fruity
---