20% PROTEIN CASHEW-Fig Muesli
made for athletes
Our 20% Protein Cashew and Fig muesli will fuel any active lifestyle, whether you are a casual gym-goer or a top level athlete. The muesli combines our finest flakes with a variety of nuts and seeds. We added fig, blueberry and strawberry pieces for a sweet twist. And as if it couldn't get any better, this high protein muesli has no added sugar and is 100% vegan!
Ingredients (100% organic)
mymuesli contains organic ingredients only and does without any colourings, flavourings or flavour enhancers. Always. Promise.
20% Protein Cashew-Fig Muesli is an organic muesli with these delicious ingredients:
| Nutrition values | | per 100g |
| --- | --- | --- |
| Caloric value | kcal / kJ | 425 kcal / 1774 kJ |
| Fat | g | 20.1g |
| ...thereof saturated fatty acids | g | 2.8g |
| Carbohydrates | g | 34.1g |
| …of which sugar | g | 7.1g |
| Fibre | g | 13.0g |
| Protein | g | 20.4g |
| Salt | g | 0.02g |
| | | |
List of ingredients
oat flakes, soya flakes, sprouted flax seeds (12%), spelt flakes, rye flakes, dried fig cubes (7%), sunflower seeds, pumpkin seeds, almonds, cashew kernels (4%), freeze-dried strawberry pieces (2%), freeze-dried blueberries (2%), linseed meal (1%), rice flour. May contain traces of other nuts, peanuts, lupin, sesame seeds and milk.
Taste flower
Our taste flower shows you what you can expect in terms of taste and consistency.
sweet
crispy
sour
mushy
fruity
---
the journey of the cashew nut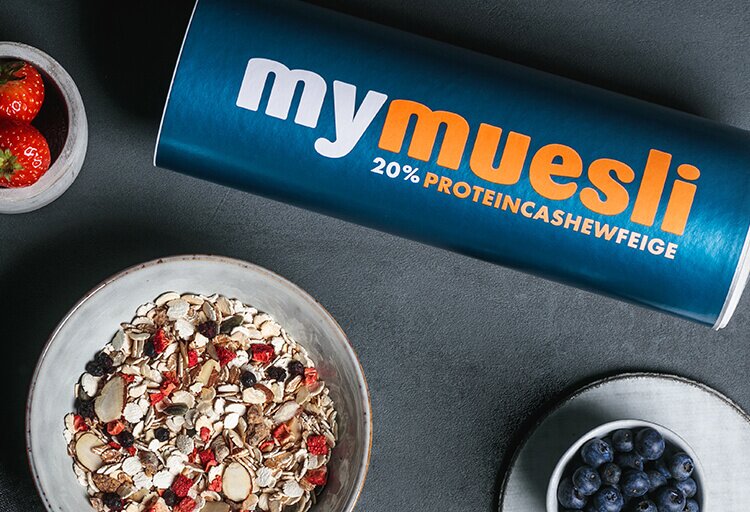 Raw, roasted, seasoned or caramelised...cashew nuts always taste amazing! The most surprising thing is the appearance of the cashew tree, but first, a few facts about their origin. Native to Brazil, the cashew tree was 'discovered' by the Portuguese in the 16th century and taken to Africa and Southern Asia where its long roots were used to counteract erosion incoastal areas. Only later was the plant cultivated and farmed in areas such as the Ivory Coast in Africa, which is where we get our organic cashews from.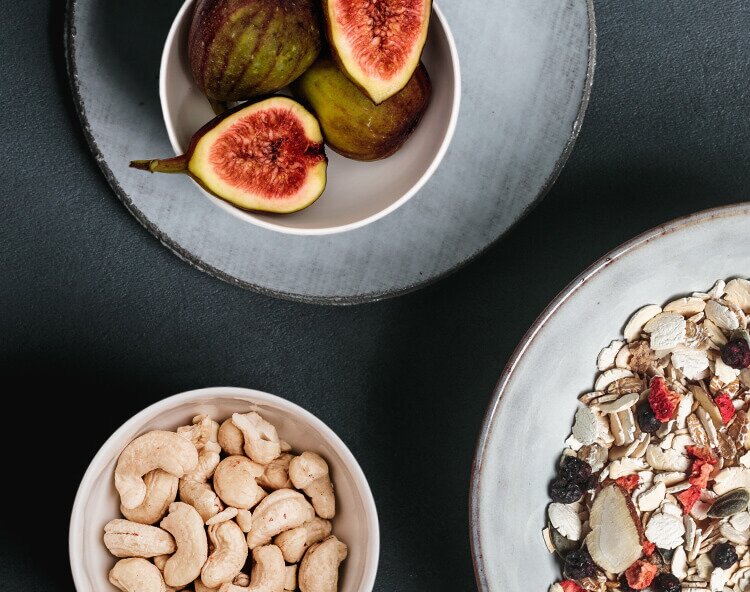 But how does the cashew nut grow? The nut grows on a tree known as the cashew, Kaschu or kidney tree, which can grow to up to 15 metres tall! From the tree hangs long fruit stems, the cashew apples. From this 'apple' grows the kidney-shaped cashew fruit containing the seed. Yep, you will really have to see it to believe it! But what's most important is that the cashew nut tastes fantastic with our coconut chocolate, a must try!