Turmeric BANANa GRANOLA
Try our new turmeric and maca coated oats to really start your day the golden way! The spiced granola is complimented perfectly by sweet banana slices, crisp cocoa chips and slightly sour pomegranate seeds.

✔ crunchy granola seasoned with maca and turmeric
✔ high fibre content (7.9g per serving of 60g)
✔ vegan, lactose and palm oil free
Ingredients (100% organic)
mymuesli contains organic ingredients only and does without any colourings, flavourings or flavour enhancers. Always. Promise.
Turmeric Banana Granola is an organic muesli with these delicious ingredients:
| Nutrition values | | per 100g |
| --- | --- | --- |
| Caloric value | kcal / kJ | 434 kcal / 1813 kJ |
| Fat | g | 18.1g |
| ...thereof saturated fatty acids | g | 2.7g |
| Carbohydrates | g | 49.6g |
| …of which sugar | g | 15.0g |
| Fibre | g | 13.1g |
| Protein | g | 11.5g |
| Salt | g | 0.02g |
| | | |
List of ingredients
Turmeric granola (51%) (oat flakes, rice syrup, sunflower oil, turmeric, maca powder), tigernuts, almonds, oat flakes, dried date cubes, pieces of raw cocoa beans (4%), chia seeds (Salvia hispanica), freeze-dried banana slices (3%), freeze-dried pomegranate seeds (2%), rice flour. May contain traces of other nuts, peanuts, soya, lupin, sesame seeds and milk.
Taste flower
Our taste flower shows you what you can expect in terms of taste and consistency.
sweet
crispy
sour
mushy
fruity
---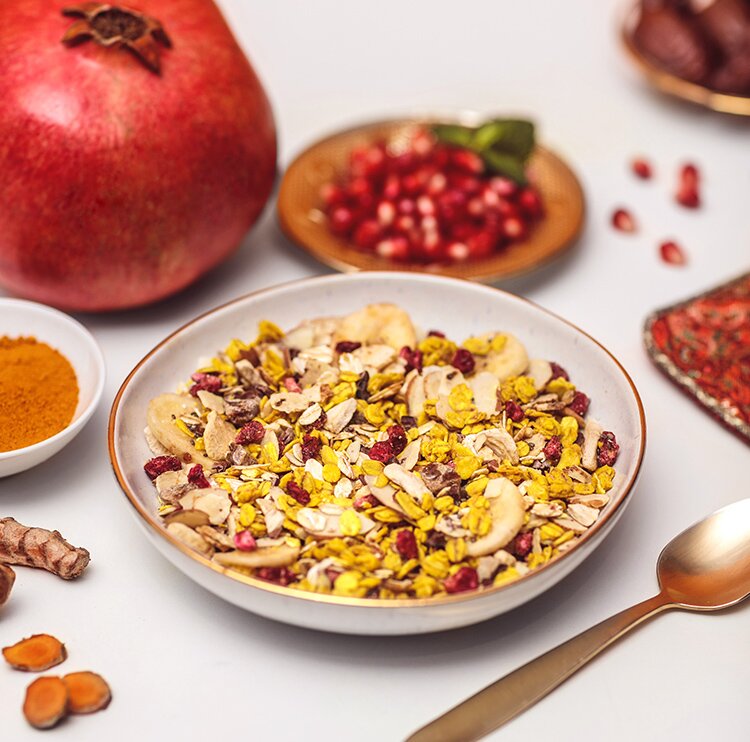 Originally, the fine maca powder we use in our Turmeric-Banana-Granola comes from South America. Centuries ago, the Incas used the spice to cook and bake - now our muesli experts in Passau are using it to create a unique granola. But how? Together with the superfood turmeric it gives our granola a fine caramel note and ensures that the milk turns a beautiful golden yellow.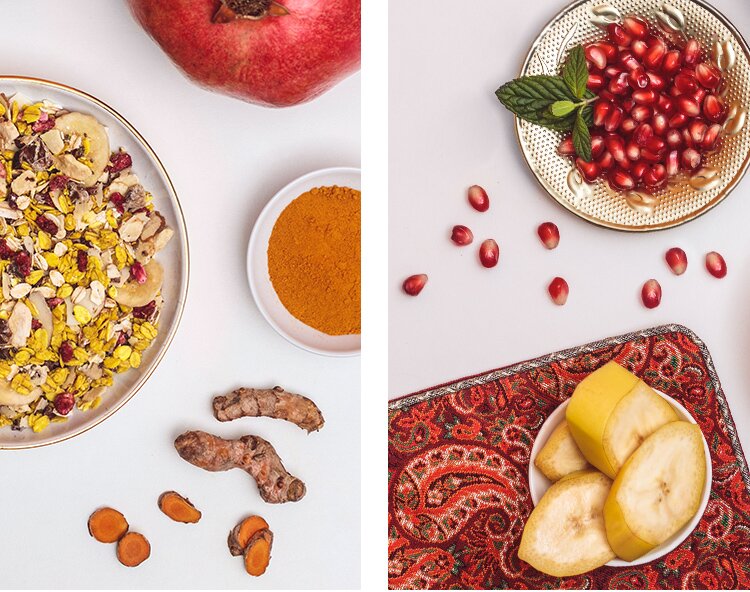 By the way: With our porcelain cereal bowls your favourite breakfast will be even more stylish! Make your morning more colourful with a choice of yellow, red, white or purple.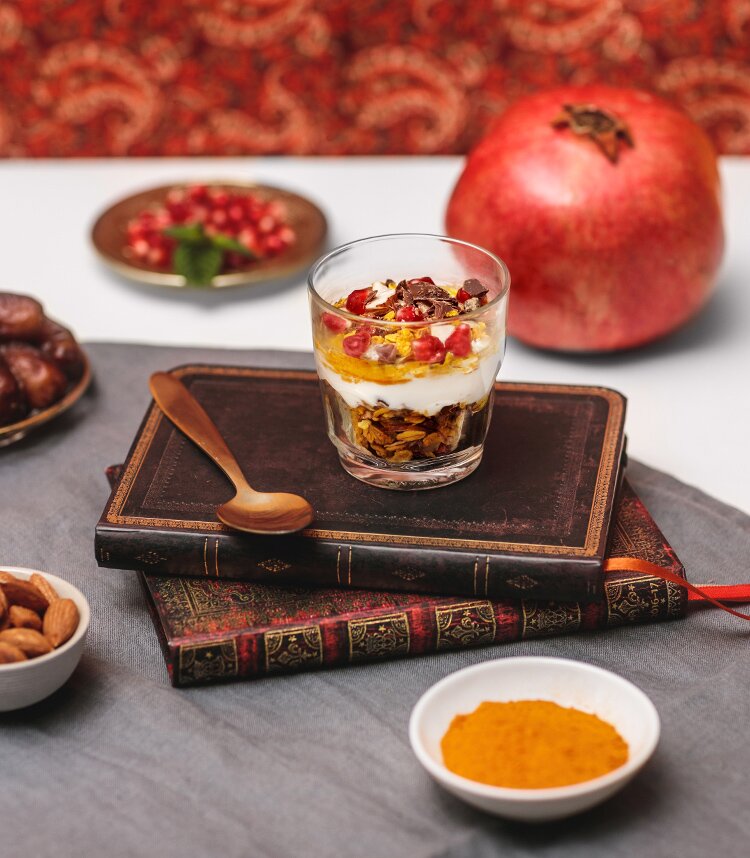 Turmeric is considered one of the oldest spices and is still part of the Ayurvedic teachings, a form of traditional Indian healing art. Although our cereal does not look like Ayurvedic medicine, it would have tasted like it to Dhanvantari (the doctor of the gods and origin of all healing arts in Hindu mythology). But now it's up to you, what do you think of this unique muesli creation?