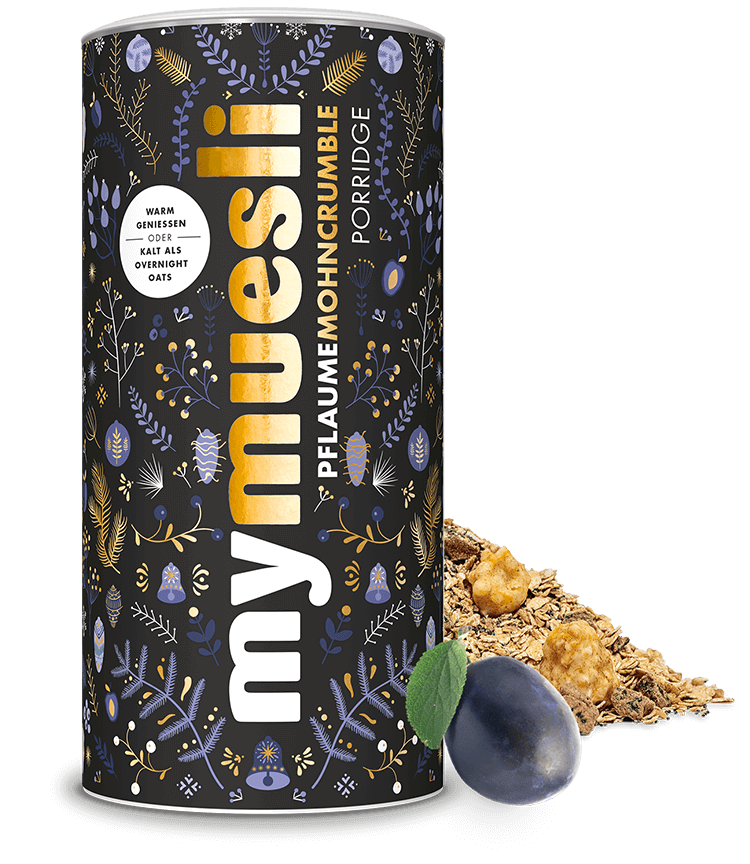 PLUM Poppy CRUMBLE porridge

Intense taste, creamy consistency and perfectly balanced ingredients: with fruity plum pieces, nutty poppy seeds and seductive, white chocolate corn crispies. Simply heartwarming and refined with a fresh crumble.

the perfect combination of fruity, nutty and sweet
with whit chocolate crispies
winterly flavoured thanks to high quality ceylon cinnamon
Ingredients (100% organic)
mymuesli contains organic ingredients only and does without any colourings, flavourings or flavour enhancers. Always. Promise.
Porridge Plum Poppy Crumble is an organic porridge with these delicious ingredients:
Nutrition values

per 100g

Caloric value
391 kcal / 1637 kJ
Fat
14.2g
...thereof saturated fatty acids
2.9g
Carbohydrates
47.3g
…of which sugar
10.8g
Fibre
12.0g
Protein
12.3g
Salt
0.03g
Eisen
0mg
List of ingredients
fine oat flakes, dried plum cubes (17%), poppy seeds (10%), roasted almonds, white chocolate maize crispies (6%) (cocoa butter, desiccated coconut, maize, rice, cane sugar, whole milk powder, salt*), cinnamon, rice flour. May contain traces of other nuts, peanuts, soya, lupin and sesame seeds.