THE CORRECT porridge PREPARATION
How to MAKE DELICIOUS MYMUESLI Porridge
THE CLASSIC - ON THE STOVE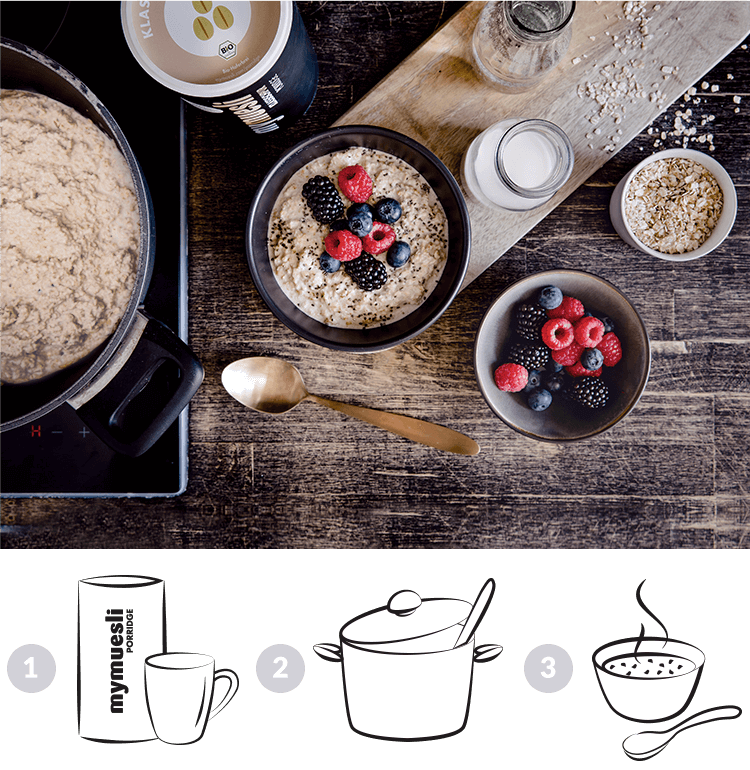 The preparation of mymuesli porridge is very simple. Use half a cup of oats with a full cup of a milk of your choice. You can substitute the milk, or some of the milk, for water. Bear in mind that this will make your porridge less creamy!
Preparing porridge the traditional way should take only about 5-10 minutes. Pour the oatmeal and milk into a saucepan and bring to a boil. Once boiling you can reduce the heat and allow to simmer for another 3 minutes. Remember to keep stirring the porridge so that it doesn't stick to the pan!
QUICK & EASY - IN THE MICROWAVE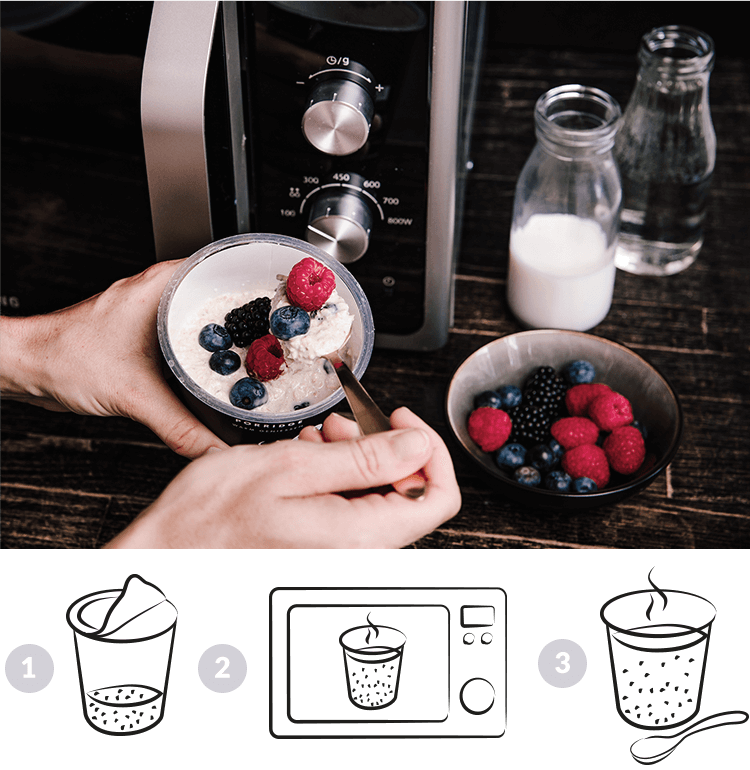 For those of you who are a little more rushed in the in the morning the mymuesli porridge 2go is a super quick and easy solution - ready in just 3 minutes! Add milk to the cup and microwave for 1.5 minute on full power (700W). Stir well, and heat for a further 30 seconds. Allow to rest for about a 1 minute.
Please note: Microwave ovens do vary so adjust times and power if necessary.
Water or milk?
This is completely dependent on your personal taste. If you want a breakfast with less calories you can boil the finely ground oatmeal in water. The oats will swell just as well as with milk. There are plenty of dairy free alternatives from those who prefer a vegan or lactose-free porridge. Cow's milk can be replaced with oat milk, soy milk or almond milk, according to your preference.
Tip: The more you stir your oatmeal when cooking, the fluffier the porridge becomes - just like a risotto!
POPULAR INGREDIENTS AND TOPPINGS
The traditional Scottish way is to season your porridge with just a pinch of salt. But if this isn't right for you there are loads of delicious ingredients available to refine your porridge. With spices such as cinnamon or vanilla and sweeteners such as honey or agave syrup you can really enhance the flavours of your porridge. Also popular are dried fruits such as finely chopped dates, figs or plums. Crunchy nuts and coconut chips give the porridge more bite. If you like it fruity, then just top with seasonal fresh fruit. Health-conscious porridge fans mix in crushed flax seeds or chia seeds.
have you tried preparing our porridge as overnight oats?


How to prepare overnight oats
Did you know our oats can be enjoyed both hot and cold? With a little preparation the night before, overnight oats is a great solution for those mornings when you're short on time. It will also save you some washing up... Follow these simple steps to a fresh ready made breakfast for when you wake up:
1. Pour 40g of your favourite porridge flavour into a bowl.
2. Stir in about 80ml of a milk of your choice. This can be adjusted depending on your preferred consistency.
3. Optional: grate in some apple for added flavour and nutrients.
4. Refrigerate overnight and enjoy the following morning with fresh fruit toppings of your choice.
Our favourite flavours for overnight oats