Cranberry pistachio Granola
Our Cranberry Pistachio Granola makes for a real taste explosion in your mouth. For the granola base our oatmeal is baked in honey making it extra crispy. Golden brown and satisfyingly sweet, the flakes go perfectly with the tart flavours of cranberries, raspberries and sour cherries. Noble pistachios and crunchy cashews give the organic muesli the necessary bite. Warning: Addictive!
Granola or muesli?
Granola is in fact... baked muesli! However, unlike our crispy-sweet muesli made from oats, barley, wheat flakes, puffed rice and cane sugar, the granola base contains only oatmeal. This is baked crisp in organic honey, giving a pleasant, subtle sweetness. Granola therefore tastes particularly delicious with tart or sour ingredients, such as cherries or raspberries.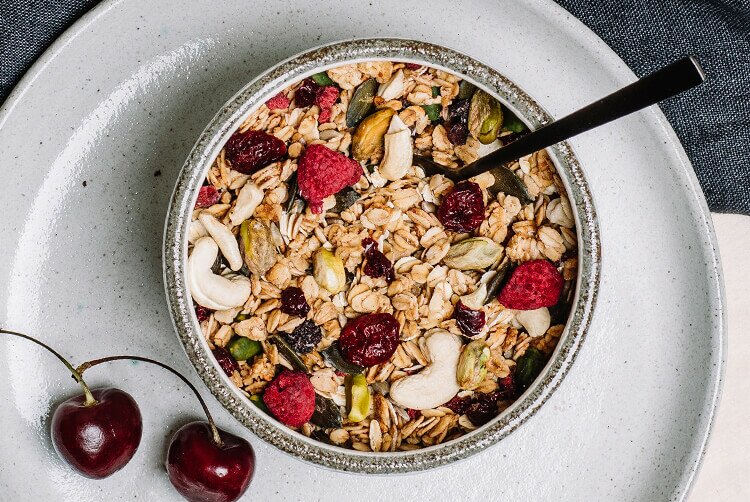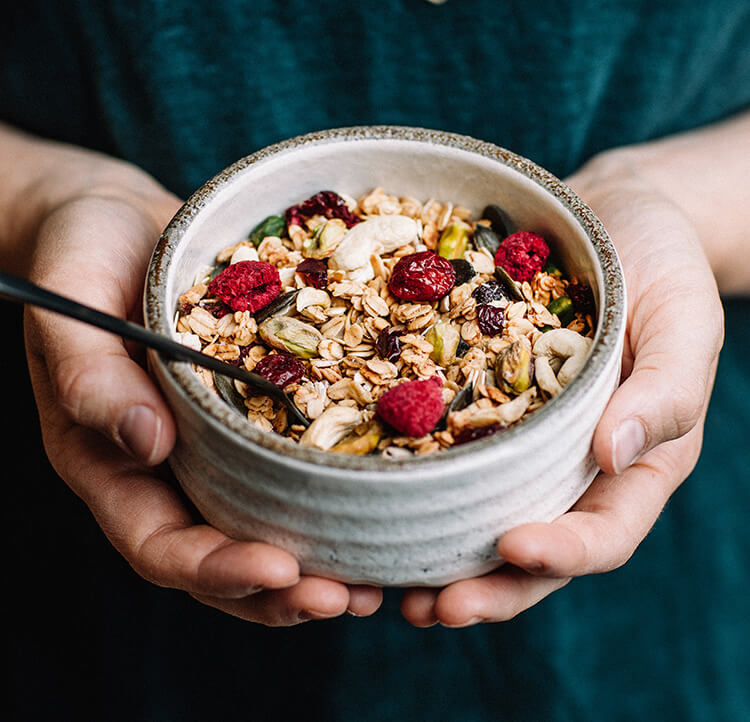 Ingredients (100% organic)
mymuesli contains organic ingredients only and does without any colourings, flavourings or flavour enhancers. Always. Promise.
Cranberry Pistachio Granola is an organic muesli with these delicious ingredients:
| Nutrition values | | per 100g |
| --- | --- | --- |
| Caloric value | kcal / kJ | 437 kcal / 1830 kJ |
| Fat | g | 17.9g |
| ...thereof saturated fatty acids | g | 3.9g |
| Carbohydrates | g | 51.1g |
| …of which sugar | g | 13.1g |
| Fibre | g | 8.7g |
| Protein | g | 13.5g |
| Salt | g | 0.03g |
| | | |
List of ingredients
granola crunchy (53%) (oat flakes, honey, sunflower oil), oat flakes, sunflower seeds, cashew kernels (5%), pumpkin seeds (5%), roasted pistachios (4%), dried sour cherries (4%), desiccated coconut, dried cranberries (3%), apple syrup, freeze-dried raspberries (1,5%).
May contain traces of other nuts, peanuts, soya, lupin, sesame seeds and milk.
Taste flower
Our taste flower shows you what you can expect in terms of taste and consistency.
sweet
crispy
sour
mushy
fruity
---
Muesli bread Recipe
Homemade muesli bread - bread making have never been so simple. Our cranberry pistachio granola gives the muesli bread that extra something. Honey-sweet granola blends perfectly with crunchy nuts, sour cherries and raspberries. Can be enjoyed both sweet with fruity jam, and savoury with ham or cream cheese - this muesli bread is a surprisingly delicious treat!