Berry-COCONUT-Choc-Muesli
Vegan chocolate muesli
It's a match made in vegan heaven! In our new Berry Coconut Choc muesli our spelt and quinoa crunch base meets dark chocolate coated spelt and cranberry pieces. Combined with aromatic coconut flakes and our famous freeze dried strawberries, this muesli is sure to pack a punch with your taste buds.
Ingredients (100% organic)
mymuesli contains organic ingredients only and does without any colourings, flavourings or flavour enhancers. Always. Promise.
Berry Coconut Choc is an organic muesli with these delicious ingredients:
| Nutrition values | | per 100g |
| --- | --- | --- |
| Caloric value | kcal / kJ | 424 kcal / 1777 kJ |
| Fat | g | 17.0g |
| ...thereof saturated fatty acids | g | 9.6g |
| Carbohydrates | g | 52.7g |
| …of which sugar | g | 15.6g |
| Fibre | g | 9.4g |
| Protein | g | 10.4g |
| Salt | g | 0.09g |
| | | |
List of ingredients
oat flakes, spelt-quinoa-crunchy (30%) (spelt flakes, rice syrup, sunflower oil, quinoa flour, wholemeal spelt flour), chocolate spelt balls coated in coconut sugar dark chocolate (11%) (cocoa mass, coconut blossom sugar, cocoa butter, maize semolina, wholemeal spelt flour, rice syrup, sea salt*, glazing agent gum arabic), cranberry-chocs coated with coconut sugar dark chocolate (10%) (dried cranberries, apple syrup, cocoa mass, coconut blossom sugar, cocoa butter, glazing agent gum arabic), desiccated coconut (6%), pieces of raw cocoa beans, freeze-dried strawberry pieces (2%), freeze-dried red currant (2%). May contain traces of nuts, peanuts, soya, lupin, sesame seeds and milk.
Taste flower
Our taste flower shows you what you can expect in terms of taste and consistency.
sweet
crispy
sour
mushy
fruity
---
a very special chocolate muesli

chocolate for everyone!
We are so excited that almost all our muesli friends -whether lactose intolerant, vegan, or not- can now enjoy a delicious chocolate muesli. Our dark chocolate is made with three organically sourced ingredients: cocoa mass, cocoa butter and our special coconut blossom sugar. But where does this actually come from?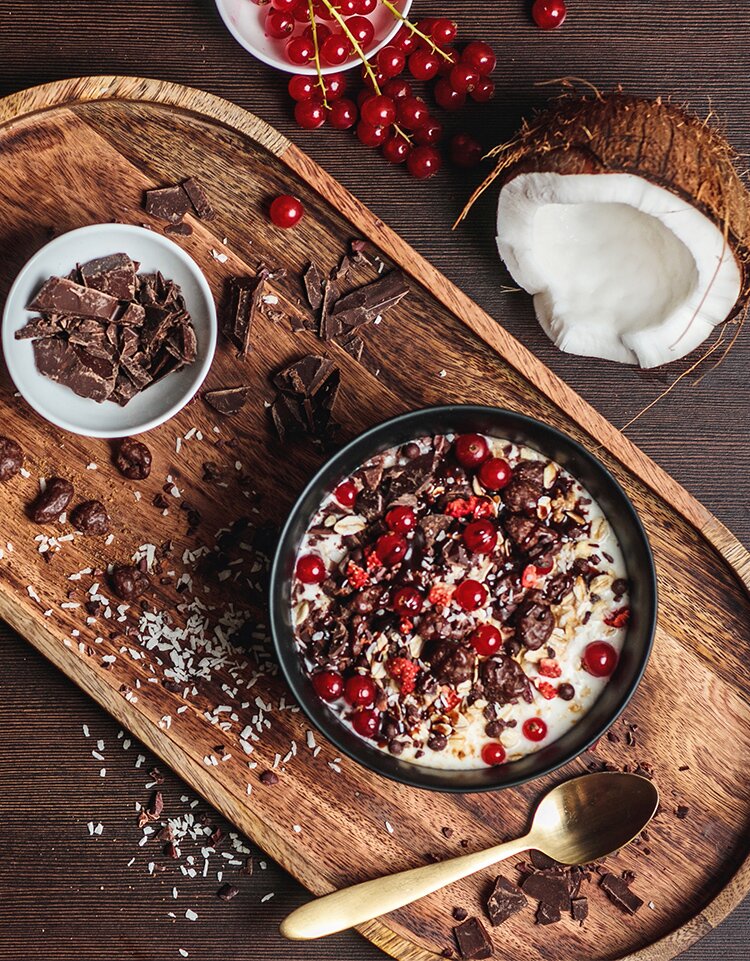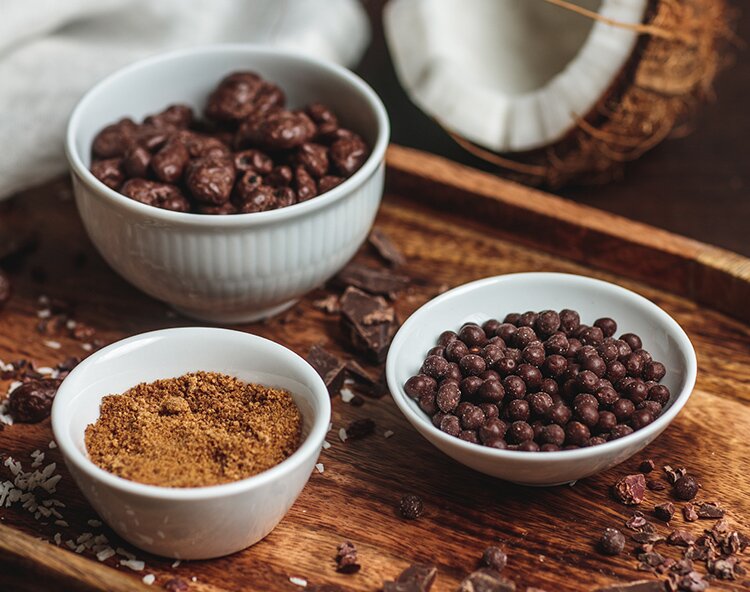 down to the palm
Coconut blossom sugar is extracted from the nectar of the coconut palm. During this process the farmer cuts out the flower buds. From here they collect the nectar, which is then boiled and dried out. A single palm can provide up to 2 litres of nectar daily for more than 70 years! Talk about sustainable... The brown sugar has a smooth caramel taste and makes for a delicious vegan chocolate alternative!