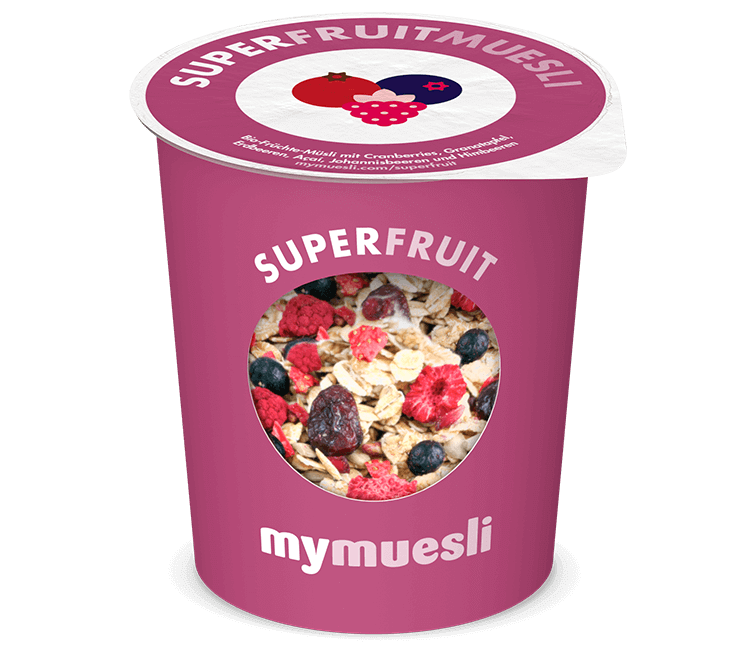 superfruit 2go
The Superfruit muesli has more fruits than any of our other mueslis. Packed with raspberries, cranberries, strawberries, blackcurrants, pomegranate seeds and acai in perfectly portioned 85g cups. But it's not just the fruit that makes this muesli super - it tastes super too!

Ingredients (100% organic)
mymuesli contains organic ingredients only and does without any colourings, flavourings or flavour enhancers. Always. Promise.
mymuesli2go Superfruit is an organic muesli with these delicious ingredients:
Nutrition values

per 100g

Caloric value
365 kcal / 1537 kJ
Fat
7.0g
...thereof saturated fatty acids
1.1g
Carbohydrates
57.8g
…of which sugar
10.1g
Fibre
11.2g
Protein
12.0g
Salt
0.07g
List of ingredients
spelt flakes, barley flakes, oat flakes, granola crunchy (oat flakes, honey, sunflower oil), crispy spelt flakes (wholemeal spelt flour, barley malt flour, sea salt*), sunflower seeds, freeze-dried strawberry pieces (4%), dried cranberries (3%), freeze-dried pomegranate seeds (2%), freeze-dried black currants (2%), freeze-dried raspberries (2%), apple syrup, açaí powder (1%).
May contain traces of nuts, peanuts, soya, lupin, sesame seeds and milk.
Taste flower
Our taste flower shows you what you can expect in terms of taste and consistency.
sweet
crispy
sour
mushy
fruity
---