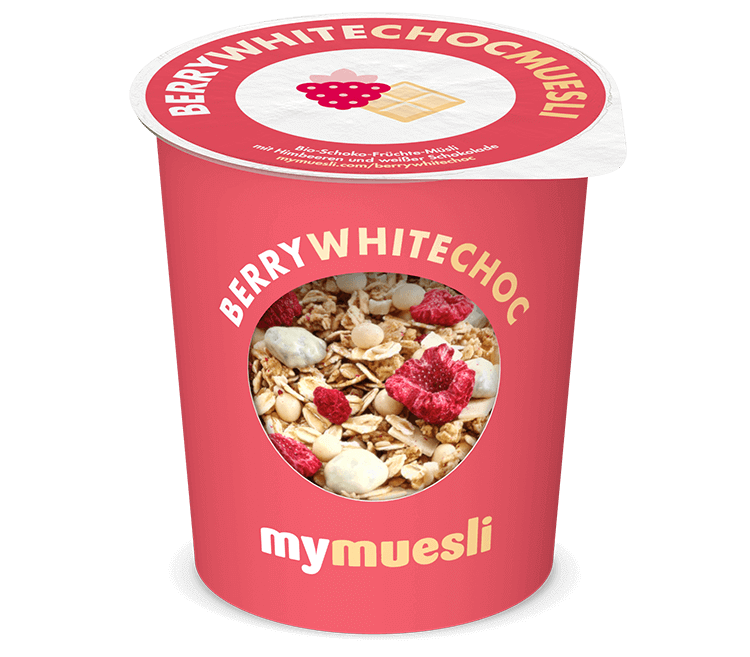 BERRY WHITE CHOC 2go
A dreamy combo: Freeze-dried raspberries come together with unbelievably delicious cranberries coated in white chocolate and delicately melting chocolate flakes. Best of all, the perfectly portioned 85g cup means you can take it with you wherever you fancy eating some muesli. Muesli enjoyment at its best!
Ingredients (100% organic)
mymuesli contains organic ingredients only and does without any colourings, flavourings or flavour enhancers. Always. Promise.
Berry-White-Choc 2go is an organic muesli with these delicious ingredients:
Nutrition values

per 100g

Caloric value
417 kcal / 1748 kJ
Fat
16.0g
...thereof saturated fatty acids
4.2g
Carbohydrates
53.4g
…of which sugar
12.8g
Fibre
7.8g
Protein
10.9g
Salt
0.06g
List of ingredients
oat crunchy (37%) (oat flakes, rice syrup, sunflower oil, shredded oats, wheat flakes, puffed rice, honey, barley flakes, cinnamon), oat flakes, cranberries with white chocolate (7%) (dried cranberries, apple syrup, sugar, cocoa butter, whole milk powder, maltodextrin, glazing agent gum arabic), white chocolate spelt balls (5%) (rsugar, cocoa butter, whole milk powder, maize semolina, wholemeal spelt flour, sea salt*, glazing agent gum arabic), almonds, sesame, white chocolate (3%) (raw cane sugar, cocoa butter, whole milk powder), freeze-dried raspberries (3%). May contain traces of other nuts, peanuts, soya and lupin.
Taste flower
Our taste flower shows you what you can expect in terms of taste and consistency.
sweet
crispy
sour
mushy
fruity
---