thermo bottle 2go set
THERMO 2go Bottle with 3 organic mini teas
This ones for all you 'outdoorsy' people...! Our functional ThermoBottle 2go is also available with 3 delicious mini teas as a set. Whether it's spicy herbal tea, sweet Sencha with mango or a classic black tea: you can prepare your favourite tea fresh on the go at any time. Thanks to the integrated sieve and the tea container in the lid, you can brew it before you drink it. The bottle is also extra light and completely robust. Sounds good, doesn't it?


You'll get:
1x Thermo Bottle 2go (700ml)
3x Organic mini teas: Sun of Heaven Green tea (20g), Garden Blossom Kräutertee (20g), Miss Grey Breakfast tea (20g)
Material: Bottle: double-walled stainless steel; tea strainer and holder ring: stainless steel; lid and container: PP and silicone (free of BPA)
SERVE AND ENJOY YOUR TEA IN STYLE
With our Tree of Tea tea glass, extended tea enjoyment is possible. Due to the double-walled insulation, hot brewed tea stays hot longer and iced teas, smoothies or juices stay iced longer. The glass is absolutely heat-resistant, so don't be afraid of high temperatures.
FRESH TEA ON THE WAY 
You are a big tea fan and want to enjoy your favourite tea anytime and anywhere? Then our Thermo Bottle 2go Set is made for you. Simply bring hot water with you in the 2go Bottle from home and put your loose leaf tea in the container in the lid. Then brew it fresh wherever you are!

When your tea cravings start to brew simply sieve the tea and let it draw. Time for fresh tea straight from the bottle!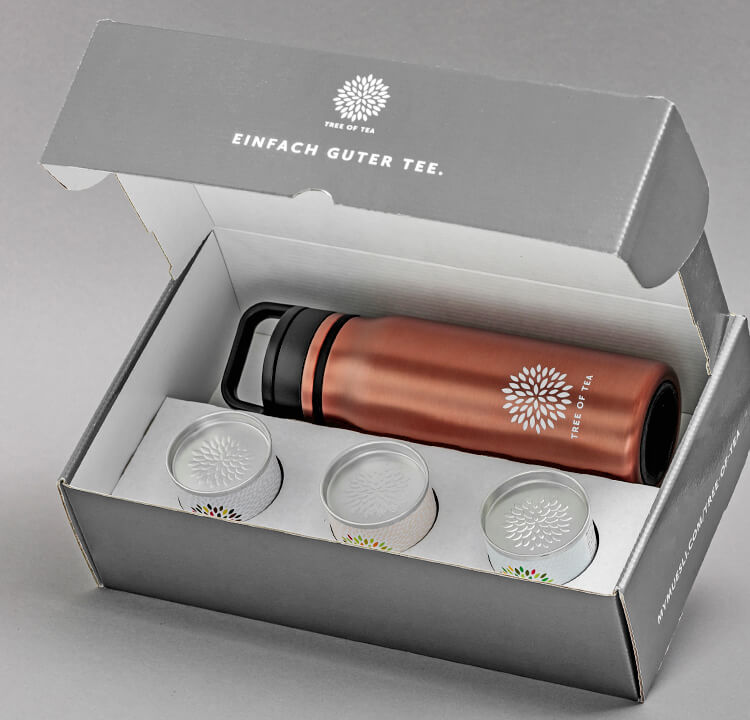 In our set you will receive 3 delicious varieties of the finest organic leaf tea. Depending on the occasion and mood, you can brew a flowery black tea, an exotic green tea or a fresh herbal tea. By the way: With a capacity of 700ml, our Thermo Bottle 2go will always have enough of your favourite tea with you to share it with friends. We have also designed the bottle to be extra light and very robust. The double-walled stainless steel insulation keeps the contents warm for up to 12 hours and cold for 24 hours. Because in the Thermo Bottle 2go you can also prepare a refreshing iced tea on the go.



Note: If you want to be on the safe side, pour a little boiling water over your tea (especially herbal and fruit teas) before filling it into the storage container on the way. Even the highest quality teas can have small impurities and germs.
3 types of organic tea
GARDEN BLOSSOM
Herbal tea with peppermint and apple.
MISS GREY
Black tea with rose petals and marigolds
SUN OF HEAVEN
Sencha green tea with mango