thermo 2go bottle
for freshly brewed tea on the go
Would you like to prepare your tea wherever and whenever you want? It is now possible thanks to the integrated filter and tea storage tank in our 2GO Thermo Bottle. Our stainless steel insulated bottle is lightweight and easy to carry with you anywhere. Its double wall will allow you to keep your tea hot for about 12 hours and your iced tea cold for about 24 hours: perfect for your next adventure! Say goodbye to bitter or lukewarm teas and try out our new creation, a must have for all tea lovers.
Capacity
: 700ml
Dimensions: height: 26cm; Ø: 8cmWeight: 420g
Material: bottle: double-walled stainless steel; infuser and mounting ring: stainless steel; lid and tank - PP and silicone (without BPA)
Cleaning: by hand
Your new favourite tea accessory
The Thermo 2GO bottle has a simple and sophisticated system that allows tea lovers to brew their hot or cold drinks while carrying them, wherever they are. This new bottle is made up of loads of components, but don't worry, it's really easy to use!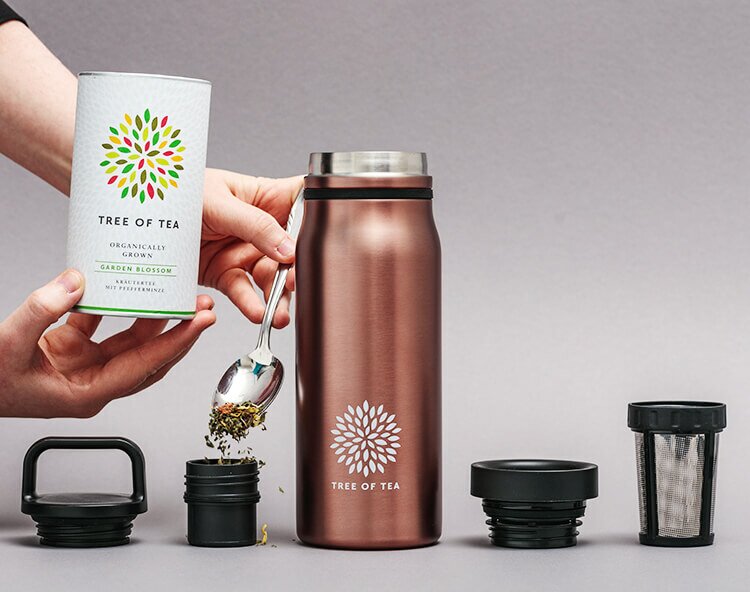 Thanks to our Thermo 2GO Bottle, you can enjoy a delicious tea on your next adventure, be this a winter ski trip or a summer canoe trip. The last thing we want is your tea becoming bitter. With our new bottle you can prevent this: before going on an excursion, pour hot or cold water into your insulated bottle and fill the tea tank with your tastiest loose organic tea leaves. Pour the tea leaves into the infuser when you want, and you will get a tasty tea without any bitterness. 

Note: Our tea is a 100% natural and high quality product, but it may contain some small shells or other ingredients. If you want to be more careful.e you can pour a little boiling water on the tea leaves before placing them in the tea tank. Don't worry, your tea will not lose its flavour.