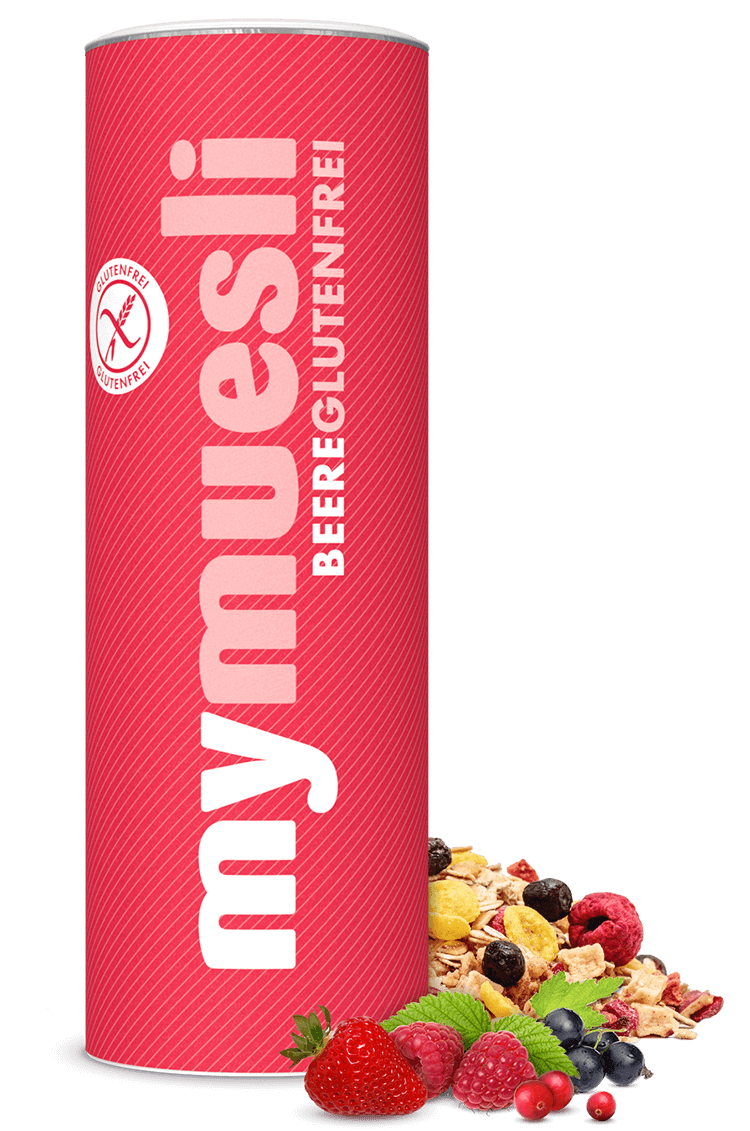 gluten free berry muesli
try our new recipe
Our gluten-free berry muesli: no gluten, lots of taste! Thanks to our raspberries, strawberries and blueberries your breakfast is even delicious without any added sugar! The base is made up of crispy buckwheat and cornflakes and we've added crunchy pumpkin seeds to top it off. A new favourite in the mymuesli office, and of course has the seal of approval from the German Celiac Disease Society.
Crunchy and fruity
Our berry muesli has become a true classic for our muesli lovers. We decided that it should also be possible in a gluten-free version, without compromising on taste. We set out to find the best gluten free ingredients, resulting in a delicious combination of buckwheat flakes, cornflakes and fruity red berries.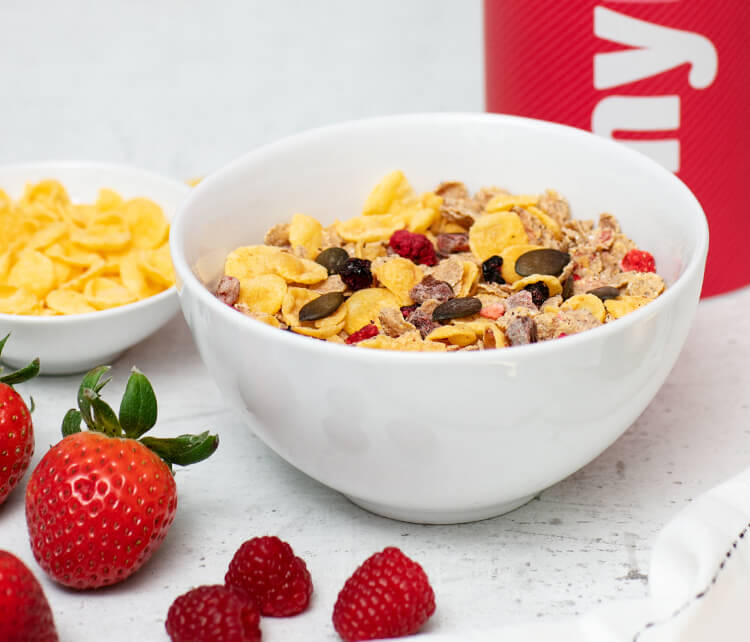 WITH THE SEAL OF THE CELIAC SOCIETY
Our gluten-free mueslis must meet two requirements: they must taste really good and whilst being produced with the greatest care. Our gluten-free chocolate muesli meets both criteria: it tastes wonderfully chocolatey and is in no way inferior to "normal" muesli. In order to guarantee gluten-free quality, it is produced separately from our other products and then tested for gluten-free quality in the laboratory. 
Ingredients (100% organic)
mymuesli contains organic ingredients only and does without any colourings, flavourings or flavour enhancers. Always. Promise.
Nutrition values

per 100g

Caloric value
369 kcal / 1559 kJ
Fat
3.2g
...thereof saturated fatty acids
0.5g
Carbohydrates
73.7g
…of which sugar
18.3g
Fibre
7.1g
Protein
7.7g
Salt
0.89g
Eisen
0mg
List of ingredients
Buckwheat flakes (42%) (maize, buckwheat, sea salt*, oat fibers), dried date cubes, cornflakes (23%) (maize, sea salt*, maize malt), pumpkin seeds (5%), freeze-dried strawberries (2%), freeze-dried raspberries (2%), freeze-dried blueberries (1%), riceflour. May contain traces of nuts, soya, lupin, sesame seeds and milk.