mymuesli2go cup
Always and everywhere: The mymuesli2go cup allows you to take your favourite muesli and milk or yoghurt with you in two separate containers - and later mix them together.

Both containers have their own lid. They are leak proof and can be put together with a simple rotary motion. And since the larger bottom part is microwave-friendly, you can also cook your porridge in the cup.
Produkte leider nicht kombinierbar
Leider lässt sich dieses Produkt derzeit nicht mit der Auswahl in Ihrem Warenkorb kombinieren. Wir arbeiten gerade daran, das gesamte Sortiment unseres Online Shops auch unseren Firmenkunden zur Verfügung zu stellen. Aktuell umfasst unser Firmenkunden-Sortiment die folgenden Produkte: B2B-Müsliübersicht
Falls Sie weitere Produkte, die wir noch nicht in unserem Firmenshop anbieten kaufen möchten, können Sie gerne nach Abschluss der Bestellung einen zweiten Warenkorb eröffnen.
Wir hoffen auf Ihr Verständnis.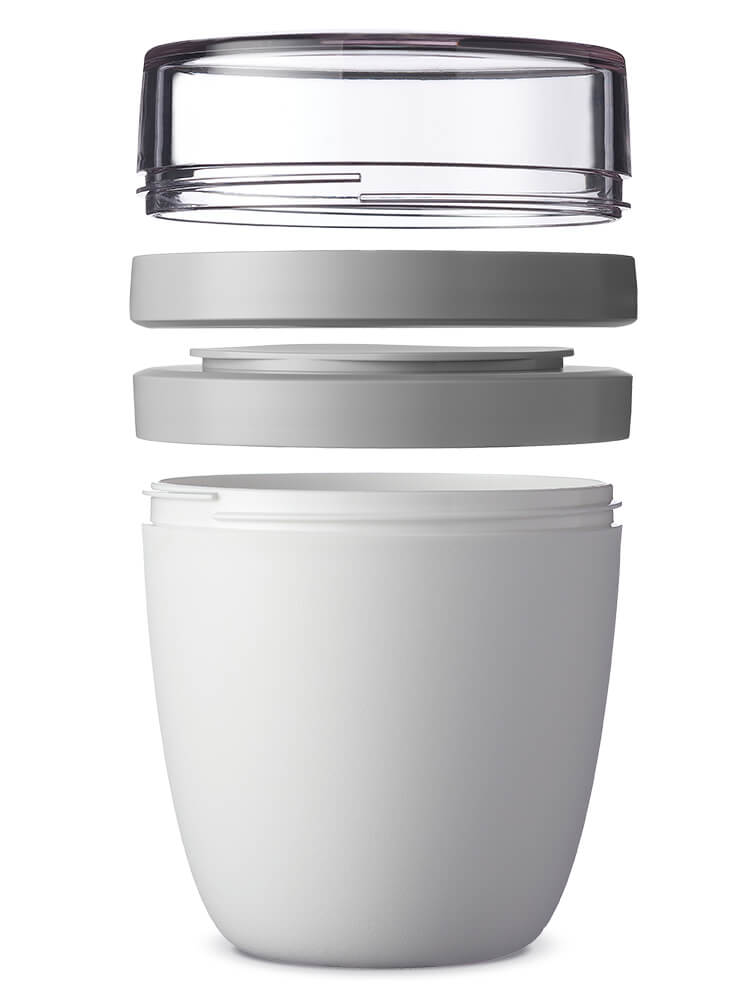 The transport of muesli and milk together can end up a little tricky... Especially if the lid on your container opens itself or leaks. Have you had that experience before? We definitely have! That's why we wanted a solution to help us transport our breakfast safe and sound.

With our mymuesli2go cup you can impress your colleagues in the office, as it can be used in many ways. For example, you could use the top compartment for fresh fruit or crispy nuts to replenish your overnight oats. And as well as muesli and porridge the cup can be used for many other foods too! 


MORE INFORMATION
 Capacity of smaller containers: 200 ml, which is about 75 grams of muesli
Capacity of large container: 500 ml e.g. for milk, yogurt, fruit
Dimensions: 10.7 x 10.7 x 15.1 cm
Sealable and reusable
Suitable for storing food, and dishwasher- microwave- and freezer-safe.
0% BPA