A muesli for the highest of standards
Our ingredients are the heart of our mueslis and should meet the highest quality standards. That's why we exclusively use organic ingredients from certified origins. The other reason is that it just tastes much better.
Best product quality
Each of our mueslis is mixed in Passau (Bavaria, Germany) with the greatest care. Perfect workplace hygiene and meticulous attention to all food regulatory requirements are a matter of course for us.
Our production site is supervised and regularly checked by the independent experts of the German food oversight body. We are certified by the HACCP standard (Hazard Analysis and Critical Control Points), a preventive system for food safety, originally developed for NASA (you can find out more about HACCP here).
We source our ingredients from selected suppliers and traders worldwide and keep close contact with our business partners in order to ensure the high quality of our products at all times. Together we want to ensure optimal product quality. As far as possible we source our ingredients from regional cultivation and from growers in our vicinity (however, we are still waiting for the lower-Bavarian goji berry). This is guarantied by our certified membership of the "Biokreis" (organic circle), a growers association for organic agriculture and healthy nutrition, whose strict guidelines we abide for an optimal product.
Our muesli factory
It took two years to develop and install it: the new mymuesli machine, which can mix more than 566 quadrillion organic muesli combinations fully automatically. That required a completely new factory, in which our world first has found a home in the midst of South-Bavarian Passau.
They carry the responsibility: Our production directors Cornelia Bauer (director of the muesli factory) und Christian Greisser (representative) coordinate our factory in all production processes. In particular, Conny and Christian ensure that only impeccable ingredients are used by mymuesli.
More infos and pictures of our factory
Should you not be satisfied with your muesli despite our quality assurance or have further questions about the product, production or quality, then please contact us. Conny, Christian und we will be happy to answer all your questions.
Certified organic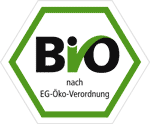 As a producer of organic mueslis we take part in the controls process of the EU Regulation.
The responsible control authority for mymuesli is ÖKOP Zertifizierungs GmbH according to EU Regulation 2092/91, Code-Nr. DE-037-Öko-Kontrollstelle.